Ed Pape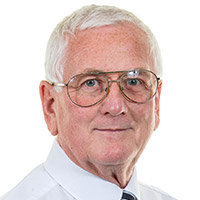 H&S Advisor
Trainer
Employment Law Specialist
As the oldest (and wisest) member of the team, I enjoy reminding my colleagues of how wise I am with stories of health and safety horrors from before the 1974 Health and Safety at Work Act was introduced.
Born in deepest rural Lincolnshire, I have enjoyed an interesting and varied life; from working with the Coroner and Senior Partner in a solicitor's office when I was just a whippersnapper… To opening my own flying school in Portugal, before settling down in the Northwest.
Over the years I have attended a wide range of courses, from Airfield Fire and Rescue to Rank Xerox Photocopy Machine Operation – which is why I am the miserable person I am today.
Despite all my larking about, I have many higher education qualifications; including master's degrees.  I'm also a Chartered Member of IOSH, which my colleagues believe I have been a member of since it opened in 1945!
I don't mean to bang on, but I deliver the IOSH approved courses, as I'm their biggest fan – however, I've been forced to let Jyssica to get involved, so she can take over when I pop off!
Qualifications
CDM Regulations 2007 Courtley
Master of Science in Occupational Health and Safety University of Salford
Ladder and Step Ladder Safety The Ladder Association
PASMA Approved Mobile Tower Training PASMA
National General Certificates in Occupational Health and Safety NEBOSH
Certificate in Education University of Manchester
Master of Arts in Advanced Employment Law and Practice Manchester Metropolitan University
Bachelor of Laws Manchester Metropolitan University
Certificate of Professional Competence in International Road Haulage Operations RSA
Level 2 Award in Emergency First Aid at Work (QFC) TQUK
Directors Role for Health & Safety ConstructionSkills
Reactec Vibration Monitor Reactec
Memberships
Graduate Member of the Institute for Learning (AD033285) IfL
Chartered Member of Institution of Occupational Health and Safety (048023) IOSH
Chartered Safety and Health Practitioner IOSH
OSHCR Registered Consultant OSHCR / HSE