Face Fit Testing
What is Face Fit Testing? And Why do I Need it?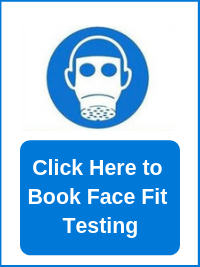 Where respiratory protective equipment or RPE is used as a control measure under Health and Safety Legislation, it is vital that the selected RPE is adequate and suitable. It must fit the wearer. This is achieved through face fit testing by a competent person.
To ensure that the selected RPE has the potential to provide adequate protection for individual wearers, tight-fitting RPE must be tested. A qualitative face fit test can be used with what are defined as tight fitting respirators, with the exception of full face masks.
This includes half face masks and disposable masks. The performance of these types of pieces rely heavily on the quality of fit of the piece to the wearer's face.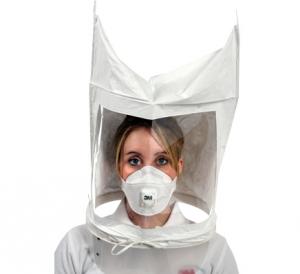 An inadequate fit or a poor fit will significantly reduce the protection provided to the wearer. The presence of facial hair in the region of the seal will significantly reduce the protection provided.
As people come in all sorts of shapes and sizes it is unlikely that one particular type, or size of RPE will fit everyone. Fit testing will help ensure that the equipment selected is suitable for the wearer. Check the Face Fit Booking page for Face Fit Open Days, where we will carry out the process of testing personal protection equipment.
Click here to visit the face fit test booking page and book your appointment now!
*Face Fit Test appointments booked on Open Days are FREE to Members.
Courtley Health & Safety Ltd
Average rating:
0 reviews
What do I Need to do Before Face Fit Testing?
You must not eat, drink, or chew gum in the 15 minutes leading up to the test. However, taking small sips of water is allowed.
You must also refrain from smoking for at least 1 hour prior, and you must be clean shaven at the time of the test. A wet shave is required.
It is not possible to achieve a reliable fit if you have any facial hair growth in the area where the seal of your face piece meets your face. You will therefore need to be suitably clean-shaven. This is because we can only trust a seal which is achieved when a clean-shaven area of your face meets the seal.
It is important to bear in mind that the same rule applies when you wear your face piece on a day-to-day basis at work. If you are unable to be suitably clean shaven for an unavoidable reason, such as where a beard is worn for religious reasons, then your employer should provide you with a suitable loose-fitting face piece which does not require you to be clean-shaven. Alternatively they will need to make arrangements so that the risks to your health are either prevented or adequately controlled.
You should be able to fit the RPE in the manner in which you have been trained and without assistance from the tester. You should also know how to carry out a pre-use check of your face piece.
During the fit you will be asked to perform simple exercises. The person carrying out the test will explain the reasons for you carrying out the exercises. If you have any medical conditions which may prevent you from performing these exercises. Please bring these to the attention of the tester and your employer.
How Often Should I Have a Face Fit Test?
Your employer may have their own policy regarding face fit testing frequency. They may require you have a fit test every six months, year or two years for example.
However, there are other things which could cause you to require retesting of your equipment before this time elapses. You will need to have your face piece checked if you lose or gain weight. Undergo any substantial dental work. Or develop facial imperfections such as scars or moles around the face seal area.
Will I be Able to Move Employment Without Having Another Test?
If you change your employer but still continue to wear the same face piece, including the same model and size, you should not have to be retested. Your new employer, however, may wish for you to have another test just to ensure your equipment is fitting correctly.
What if I Normally Wear More than One Type of Respirator?
If your job requires you to wear more than one type of respirator. For example you may need to wear a half face mask for some tasks and a disposable dust mask respirator for others. Then you should be fit tested for each type of face piece.
Who Should Pay for the Face Fit Test?
As your employer is responsible for your health and safety whilst you're at you place of work. They are responsible for the cost of the test.
Can I be Fit Tested in the Face Piece I Usually Wear?
Ideally the test will be carried out using the RPE you normally wear. If this is not possible it should be one identical to it.
If you are to be fit tested in your own face piece. Then you or your employer should ensure that the face piece is clean and maintained in accordance with the manufacturer's instructions.
Please Note: Current HSE guidance states that fit testing cannot be carried out on a face piece that is not maintained in accordance with manufacturer's instructions.
What Will I be Told at the End of the Face Fit Test?
When we have completed the test you will be told if your face piece is effective or ineffective.
If it is effective, this means that the face piece is suitable for you. An ineffective fit test result may indicate that the face piece does not fit you properly.
You will be given a copy of the report we produce. And a further copy will be sent to your employer, or the person who booked the test.
What Will Happen if My Face Piece is Found to be Ineffective?
The tester should ask you to refit the face piece and repeat the test in order to try to obtain a better standard of fit. If a better fit is not obtained, you may be asked to try on a different size or type of face piece and repeat the test again.
You should not use a face piece that does not fit you properly. As this will not be offering you any protection.
The fit tester should also inform your employer, or the person who booked your test that your equipment was found to be ineffective. Your employer should then ensure that you are provided with an alternative face piece that fits you properly.
Is The Test a Legal Requirement?
Testing is a legal requirement for all employees who are required to wear a close or tight fitting mask while at work. The HSE guidelines state you should wear respiratory protective equipment which is adequate for the hazards you are coming into contact with, and suitable for the wearer.
Is Testing Required for Disposable Masks?
Yes. Testing is required if you are wearing a disposable mask. We are able to perform testing for disposable masks as well as half face masks.
How Long Does a Face Fit Test Last?
The length of time the test remains valid for is down to the preference of the employer, which could range from 6 months to 2 years. As mentioned previously you will also need to be retested if you lose or gain weight. Have significant dental work. Or develop scars or facial blemishes around the area where the seal meets your face.