Steve Wallace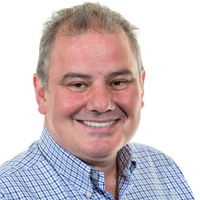 Managing Director
CDM Co-ordinator Trainer
Accounts
Steve began his career in the construction industry in 1980.  After serving an apprenticeship in Carpentry and Joinery, it quickly became clear he did not have the dexterity required to be left unsupervised with sharp tools!
So he went on to be a sub-contractor, site manager and then project manager; which kept him away from such danger.  The schemes ranged in value between a few hundred thousand, to over sixty million pounds.  And his clients included pharmaceutical manufacturers as well as retail stores.
During Steve's career, he has developed health and safety, environmental and quality management systems for many organizations.  It has been common for these systems to be audited by third parties and accredited to relevant international management standards.
Steve feels it is important to practice what he encourage in others and has set in place a quality management system at Courtley, which is accredited to ISO9001:2008 standards.  He believes it is great to work with clients in many business sectors, on projects, to develop a team approach to risk reduction and success.
Steve delivers the Site Managers Safety Training Scheme (SMSTS), along with the suite of courses offered under the Site Safety Plus scheme; operated by ConstructionSkills, which he thoroughly enjoys.  He also delivers shorter sessions, such as PASMA and IOSH approved courses.
Steve is regularly engaged as a CDM-Coordinator.  As a Fellow of the Association for Project Safety, his status, knowledge and experience often add value to construction projects.
Qualifications
The Advanced Craft Certificate in Carpentry and Joinery City & Guilds
Level 4 Preparing to Teach in the Lifelong Learning Sector City & Guilds
PASMA Certificate of Competence – Tower Instructor PASMA
Certificate of CPD Training Hilti
Faculty of Building Diploma Faculty of Building
Site Managers Safety Training Scheme (SMSTS) ConstructionSkills
Approved Tutor Certificate (various courses) ConstructionSkills
Diploma in Safety Management British Safety Council
Internal Auditor Training Aspects International
Staff Appraisals & Coaching Liverpool Chamber of Commerce
Sage Instant Accounts 2 and 3 Sage
Defensive Driving Hi-Way Driving Ltd
Microsoft Excel Intermediate Salford Hundred Venture
Master of Arts in Health and Safety Law and Environmental Law University of Salford
Level 2 Award in Emergency First Aid at Work (QFC) TQUK
Memberships
International Institute of Risk and Safety Management (10096) IIRSM
Registered Fellow (RFaPS CDM 2015) (006249) APS
Fellow of the Association for Project Safety (006249) APS
Graduate Member of Institute of Occupational Safety and Health (111199) IOSH