Emma Blower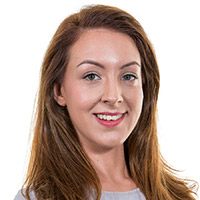 Admin & Accounts Manager
Emma's official title is Office Manager. She has found that the role includes needing to know a bit about how everything in the company is done! Emma counts herself lucky to have such a fabulous team, who help to deliver a great service to our customers.
As a lifelong resident of sunny Liverpool, she very much enjoy visiting foreign lands such as 'the Wirral'. She endeavour's to make a visit to our London office one day, that definitely would be a holiday for a humble Scouse girl like her!
During Emma's time at Courtley she has completed various secretarial and IT courses which have helped her fulfill her role with confidence. Emma has also studied accounting and gained a diploma from the Association for Accounting Technicians (AAT).
Emma is currently undertaking an apprenticeship in Leadership and Management. She hopes that the knowledge and skills gained will allow her to increase her involvement in the running of the business.
Qualifications
Managing Difficult People & Conflict GovKnow
L4 Diploma in Leadership & Management Principles C&G / ILM
L4 NVQ Diploma in Management C&G / ILM
L3 Diploma in Accounts, Technician & Bookkeeping AAT / Edexel
Site Management Safety Training Scheme (SMSTS) ConstructionSkills
IOSH Managing Safely IOSH
L3 NVQ for IT Users Ofqual
L2 Certificate for Legal Secretaries ILEX / C&G
L2 Emergency First Aid at Work Ofqual
L2 Award in Food Safety in Catering CIEH
Manual Handling Courtley
Fire Awareness Courtley
Ladder & Stepladder Safety Courtley
Memberships
ILM Associate Member (10434761) ILM
Association for Accounting Technicians (10397402) AAT