Site Inspections
The team at Courtley carried out hundreds of site inspections across the U.K and Ireland.
We have been using electronic devices for auditing for a few years now, moving away from our paper based system. With all of us being confident in the software and conducting regular audits across multiple industries such as, Construction, Manufacturing,  Transport and Professional services we wanted a way to gather data from our findings.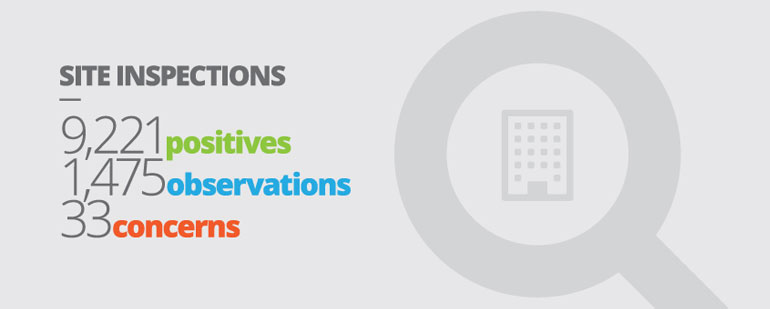 Positive
Where any of our advisors observe a positive practice, or something which can improve the safety of individuals and the company as a whole, it will be marked as positive, with images and comments to accompany it.
Observation
Observations are generally things we note during our audit, which could be improved to better safety standards.
Concern
This is something our advisors feel may adversely and imminently affect the safety of individuals. They will often speak with senior staff immediately whether it be managing director or site manager to rectify any concerns.
The operatives, supervisors and managers are to thank for their input and effort to ensure positive practices are adopted.
Now that we can efficiently collate statistics and data from our audits, we hope to see our member companies go from strength to strength with more positives and fewer observations and concerns over the next few years.

Welfare
Suitable welfare facilities must be available at a place of work.
In our experience, although they have come a long way in recent years, welfare facilities on construction sites could be improved.
The provision of toilets, a supply of hot and cold  water for washing, changing facilities, drinking water and somewhere to eat and rest is a basic expectation on all construction sites.
Work at Height
Falls from height are one of the biggest causes of workplace fatalities and major injuries. Common causes are falls from ladders and through fragile roofs. Work at height means work in any place where, if there were no precautions in place, a person could fall a distance liable to cause personal injury. This can include falling into an excavation, pit or anything below ground level.
Those in control of any work at height activity must ensure the work is properly planned, supervised and carried out by competent people. This includes using the right type of equipment for working at height.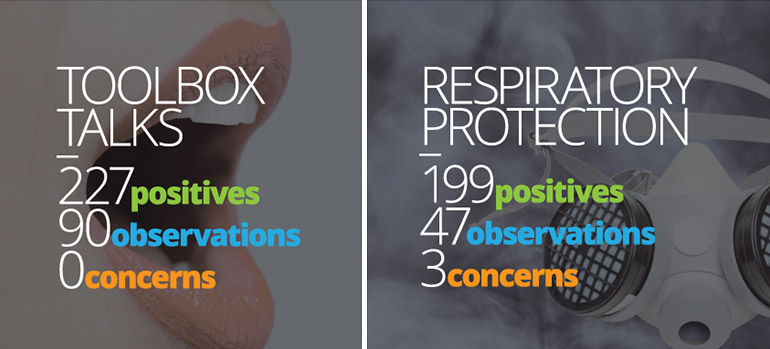 Toolbox Talks
Toolbox talks allow workers to explore the risks of specific health and safety issues and think about ways to deal with them. They should focus on a single topic and be held on a regular basis, for greatest impact. Toolbox talks are often missed, but we feel they play an integral role of in helping operatives to understand health and safety on site.
Respiratory Protection
Respiratory Protective Equipment (RPE) is generally used to stop individuals inhaling dangerous substances such as dust, fumes or fibers. When worn and fitted correctly, it is an invaluable control for safeguarding the health of the individual. However we all feel there is still some way to go with regard to educating the workforce.
The issues surrounding respiratory protection are generally;
Not understanding the requirement for face fit testing – Every person who is required to wear a tight fitting respirator whether it be a disposable, full of half face mask must undergo face fit testing.
Wearers not being clean shaven – A reliable face seal can only be achieved if the wearer is clean-shaven in the area where the face piece seal touches the face.