First Aid Training Courses
First Aid at Work Course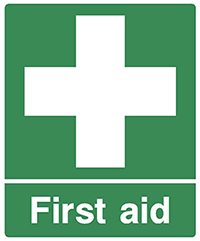 Our first aid at work training courses provide delegates with the skills they need to confidently deal with minor injuries. Our courses also give them the required knowledge to help medical professionals deal with emergencies which may occur in the workplace.
Courtley Health & Safety offer a number of workplace first aid courses. From First Aid at Work, accredited by The British Red Cross. To level 3 first aid at work, emergency first aid at work, and refresher courses.
The emergency first aid course is a 1 day course. The first aid at work is a 3 day course, and the refresher course is a 2 day course.
First Aid courses take place at our training centre in the North West. However, we can offer training at your place of work where applicable.
All of out first aid courses are certified. This means you will receive a certificate of accreditation upon completing the training.
How Long Does a First Aid Training Certificate Last?
First Aid at work certificates last for 3 years from the date of issue. This means that you will be required to attend a refresher course before the date of expiry in order to maintain the qualification.
However, in order to keep up to date with the latest standards. We recommend that you attend a refresher course every 12 months. Our first aid refresher courses will cover any changes in first aid protocol which have occurred since you obtained your certificate.
Book a Workplace First Aid Course
Enquiry Form
What is First Aid?
First aid is the help or assistance given to a person who has suffered an injury or is in distress. First aid is a form of medical treatment given to prevent an injury from becoming more severe, before professional medical help is available.
The actions which constitute first aid cover a very wide range. This can be as basic as applying a plaster to a cut, but also includes potentially life saving interventions. The use of a defibrillator would fall under the term first aid.
What are the Main Aims of First Aid?
The main aims of first aid are normally called the 3 P's in order to make them memorable. The 3 P's are:
Preserve Life – Stop the person from succumbing to their injuries.
Prevent Deterioration – Stop the person from being hurt further.
Promote Recovery – Help the person heal their injuries.
The 3 P's are also in priority order. This means your first thought should be to preserve life, followed by preventing deterioration, and finally promoting recovery.
First Aid at Work Training Requirements
The Health and Safety (First-Aid) Regulations 1981. Requires employers to ensure that they provide their staff with the equipment, facilities and personnel. Which is both adequate and appropriate, to ensure that they can receive immediate treatment if they are injured or are taken ill at work.
What is adequate and appropriate is determined by the individual circumstances of each workplace. Prior to deciding what is adequate and appropriate, a risk assessment of the workplace should be carried out.
The risk assessment should consider workplace hazards, organisation size, the type of work the business undertakes, plus any other factors specific to your workplace.
What are the Legal Requirements for First Aid at Work?
As covered above, the legal requirements for first aid at work are covered by The Health and Safety (First-Aid) Regulations 1981. You are required to perform a risk assessment to assess the needs of your workplace. Then the findings of this risk assessment must be actioned, and the appropriate equipment and facilities put in place.
What First Aid Courses are Available?
Courley currently run 4 different first aid courses. These courses are accredited by Ofqual.
FIRST AID AT WORK (BRITISH RED CROSS)
Workplaces which are considered high risk, such as construction sites, should have a minimum of 1 employee who is fully trained in first aid. The First Aid at Work course is suitable for any company requiring an accredited first aider.
This is a 3 day course which is accredited by the HSE. The course will finish with an assessment. So candidates are able to prove their understanding of the subject.
Delegates will learn how to treat minor incidents using the content of the first aid box. And give them the ability to assist medical professionals treating more serious incidents.
LEVEL 3 FIRST AID AT WORK
Level 3 First Aid at Work is an extensive 3 day course covering a range of scenarios. The course aims to give candidates the skills they need to deal with first aid emergencies in a prompt and positive manner.
Courtley's level 3 course gives participants a qualification to the highest level of first aid. This means it meets the statutory requirements of the Health and Safety (First Aid) Regulations 1981.
This course deals with a wide range of subjects including; how to deal with an unresponsive casualty, burn injuries, head injuries, and how to control bleeding.
LEVEL 3 FIRST AID AT WORK REFRESHER
The level 3 first aid at work refresher is a 2 day requalification course. This course is also comprehensively covers the topic. But, also focuses on covering any protocol changes which may have occurred since delegates last attended a course
This refresher course also meets the statutory requirements of the Health and Safety (First Aid) Regulations 1981.
LEVEL 3 EMERGENCY FIRST AID AT WORK
On completion of your businesses risk assessment. You may identify the need for one or more of your staff to be full trained practitioners of Emergency First Aid at Work. Level 3 Emergency First Aid at Work meets the requirements of the regulatory body for first aid, The Health & Safety Executive.
Candidates will learn to treat casualties in a safe an efficient manner. With topics covered on the course including; how to deal with an unresponsive casualty, how to assess an emergency situation, and your responsibilities regarding reporting incidents.