Training with 'Safety Steve': I stand, they deliver
Posted on March 23, 2022
Arguably the favourite part of my job is when I stand in front of classroom full of people at the start of a training day who are questioning why on earth they are there. Sometimes their skepticism is palpable and it brings to mind a quote I once read: "I am not a teacher, but an awakener."
I love this about our training days at Courtley Health and Safety – turning their lack of enthusiasm for health and safety into being evangelical advocates of it. By convincing them that what I am talking about isn't actually about health and safety but efficiency, friendship and valuing the people you work with, they then go and deliver that understanding to others.
Accredited courses
Training is a big part of what we do here, sometimes on site, and often here at our Liverpool HQ. We have a comprehensive set of courses available but in this blog, I am focusing on two of our most popular – Site Management Safety Training Scheme (SMSTS) and Site Supervisors Safety Training Scheme (SSSTS). Both are construction skills courses accredited by the Construction Industry Training Board (CITB).
The CITB is the industry training body for the construction sector in England, Scotland, and Wales whose job it is to help the construction industry to improve standards of health and safety across the workforce, to attract talent and to support skills development.
SMSTS is a five-day course designed for Project Managers, Site Managers, Site Supervisors and Proprietors of smaller companies and it covers The Health & Safety at Work Act and all regulations relevant to the construction industry, including site set-up; CDM regulations; risk assessments; method statements; scaffolding; electricity; excavations; demolition; and confined spaces.
SSSTS is a two-day course for first line managers, who have, or are about to acquire supervisory responsibilities, the people who are team leaders, charge hands, foremen. It aims to give them an understanding of the legal issues which affect their day-to-day role. This includes environmental, legal and welfare responsibilities.
This course is about an introduction to developing safe systems of work and in all likelihood it will be the first time they will undertake formal risk assessments and method statements – RAMS as we call them. Ultimately, we train them to deliver an effective toolbox talk.
Toolbox Talks
In the 'old days' when I saw an area for improvement on a construction site, I would get the lads together for what the construction industry calls a toolbox talk – standing round a toolbox and talking it out. It's really useful adhoc training, but on site it might be interrupted by one of the lads being called away to work on something, so there's no full learning for everyone, there's distraction and it's not top-quality training.
What is much more valuable is to have everyone's full attention and that's what we do here. I have the delegates for two days, I give them food and drink so they don't leave the site for lunch and I even provide table tennis, darts, table football and a pool table for their down time: to my mind it's also about making their time with us fun.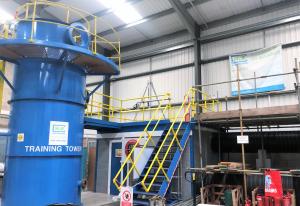 It means we control the environment which is more effective and gives a greater bang for our clients' buck. We are not out on site, but we have enough here to recreate real life scenarios – a distillation tower, scaffolding, confined spaces, fire extinguishers, high ropes access areas and much more. Having our people practice what they have just learned in our environment allows them to make mistakes where it doesn't matter and therefore, they are less self-conscious. It's all in the psychology and it works.
Where I used to go round sites and do the toolbox talk, we now train each of SSSTS learners to do it themselves and it also gives them confidence in other areas of their lives.
Safety Steve
It was Albert Einstein that said: "I never teach my pupils; I only attempt to provide the conditions in which they can learn" and that's we do here on all our courses. We carry out around 15 SSSTS and 10 SSMTS courses every year and over the years that means more than 2,500 people have been through our doors.
Some of them I might actually see again too, and that's what's great about this. I regularly visit construction sites on which many of my former learners work and I'll hear a shout of: "Hello! It's Safety Steve!" and it brings it home that we do makes a big impression.
They will come over and we will stand around chatting and discussing what's been working better on site and how they have implemented what they have learned, number one being that Health and Safety is of paramount importance. The more people we train the more there are out there delivering that message.
For more information on accredited courses at Courtley Health & Safety call 0151 545 0497.