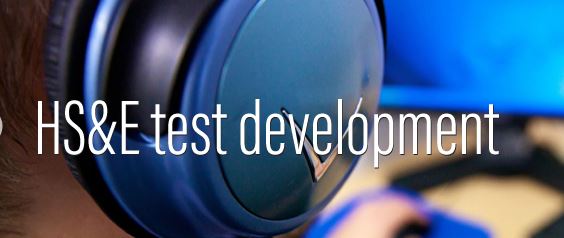 Changes to the H,S&E Test
Posted on July 3, 2019
The updated Health, Safety and Environment (HS&E) Test went live on 26 June 2019. Changes have been made to make the test even more robust so that operatives can continue to be safe on the job, whilst being confident that their fellow workers are just as qualified to contribute to a safe working environment. Employers can also have assurance that their qualified workforce is less likely to lose days to injuries on the job.
What Has Changed?
The CITB HS&E Test has been revised in several ways. An overview of these changes can be found below and full details can be found on CITB's website.
Up to date with current practice and legislation
All versions of the test have been reviewed, and where applicable the questions have been updated to keep up with current legislation.
The Operatives test in particular has undergone a substantial update to better reflect the range of day to day tasks and responsibilities an operative has on site.
Level playing field
Each person taking the revised Operatives test will have the same proportion of easy, medium and hard questions. The test will continue to serve up a random combination of questions to a candidate, but each combination will have the same level of difficulty.
CITB has worked with industry experts to make sure that all the test questions were rated for difficulty, so that the revised test is a 'level playing field' for operatives who take it.
One score to pass
Instead of two sections of questions to answer candidates only have one in the revised test. The behavioural case study questions have been removed.
The test will still examine whether candidates know the right behaviours to demonstrate in the job, as behavioural elements have been incorporated into many of the test questions
As there will only be one section of questions, the score will be simpler to understand as a result.
With the new scoring, candidates will now need the following scores to pass the test:
for the Operatives test, the pass mark is 45 out of 50
for the Specialists test, the pass mark is 45 out of 50
for the Managers and Professionals test, the pass mark is 46 out of 50.
Please note detailed score reports will no longer be available, all information available as to what areas you have passed or failed within your test will be on the score report you receive at the test centre. Should you lose or misplace your score report you can now go online and print another copy meaning you will no longer have to pay the £10 duplicate fee. You can do this by logging in to the PearsonVUE portal (where you book your online test). If you require further information about printing a score report, contact [email protected].
New questions and a new style
New questions have been added to better cover the wide range of daily health, safety and environment tasks and responsibilities. So, instead of a limited variety of questions, each candidate will now get a wider selection.
A new question style has also been introduced to the Managers and Professionals (MAP) version of the test. In this new style, candidates will drag and drop the answers into the right order. This format helps test whether a candidate really knows the procedures for being safe on the job.
Clearer instructions
Test centres reported that many workers struggled with the instructions on how to use the test equipment. CITB have now improved the on-screen tutorial so that candidates can learn how to operate the equipment during the test.
Materials to revise, not memorise
Revision materials, such as DVDs, books, downloads and apps, have all been updated alongside changes to the HS&E Test. In the operative's version, some questions and answers have been replaced with short explanatory text and more diagrams have been included to make it easier for candidates to prepare and revise for the test.
For more information or assistance with arranging your H,S&E Test; give us a call on 0151 545 0497 or drop us an email to [email protected]
Did you know we offer the 1-day Health & Safety Awareness course, which is the most popular way of demonstrating your health and safety knowledge when applying for a Labourer's CSCS card? To find out more about the CSCS card application process, read our article.