Confined Space Training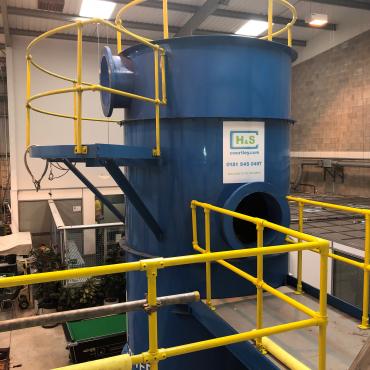 Courtley Health & Safety offer confined space training at our state of the art training facility in Liverpool. A list of the courses we are currently running from our office in the North West can be found in our training calendar. You can also take a look at the individual confined spaces courses we offer below.
What is Confined Space Training?
Confined space training is designed to give candidates the information and knowledge they need to work safely in an enclosed area. Topics covered include safe working practices, legal requirements, and what control measures should be in place when working in an enclosed area.
Training also extends to courses dealing with the rescue of individuals who have come into difficulty in a confined space. These courses teach attendees to use breathing apparatus which is appropriate for the environment. As well as how to safely extract an incapacitated person.
Some of our training courses are divided into low risk environments, medium risk environments and high risk environments. If you are ensure which training you require please contact us for guidance.
How Much is Confined Space Training?
Courses vary in price depending on the detail the course goes in to. Our half day Confined Space awareness course costs £100 plus VAT. And the three day Confined Space Rescue course costs £390 plus VAT. Please check individual courses for details.
How Long Does Confined Spaces Training Last?
The length of courses range from a half day awareness course, to three days for the rescue course. More time is needed for certain courses as they go into greater detail, or cover more complex subjects. As mentioned previously, please check individual courses for further details.
Enquiry Form
What is a Confined Space?
A confined space is an area which is substantially enclosed, though not always entirely. It is one where serious injury can occur from hazardous substances or conditions within the confined space or near to the space. For example, a lack of oxygen.
A number of people are killed or seriously injured in the UK each year in confined spaces. These incidents occur across a wide range of industries. From those involving complicated machinery, through to simple storage solutions. Health and safety training will enable employees working in confined spaces to get the job done safely.
What are the Hazards of Working in a Confined Space?
There are a number of potential hazards when working in confined spaces. These include a lack of oxygen, increased risks from noxious gases, fire, flooding or drowning, and asphyxiation caused by other materials such as dust.
The risk from flooding and fire is greater in a confined space compared to a normal working environment. This is because of how difficult it can be to quickly extract yourself from a confined space.
How Long Do Training Certificates Last?
All confined spaces training certificates last for a period of 3 years. The only exception is the confined spaces rescue course which lasts for 1 year.